The Well Armed Woman
Where the Feminine and Firearms Meet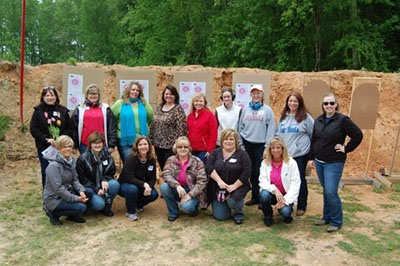 We host the NC Northeastern - Armed Angels chapter of The Well Armed Woman on the first Sunday of each month. Registration starts at 1:30 pm. A defensive concept will be taught in the classroom for one hour followed by one hour of range time practicing related shooting drills. The meeting will end at 4:00 pm.
This program focuses on women teaching women firearms safety, marksmanship, and defensive shooting skills. Learn how to shoot and reload on the move, how to clean your firearm, how to reduce and quickly recover from stoppages and malfunctions, how to choose a firearm and holster, and much more!
Visitors are welcome to attend one meeting in the classroom prior to joining. Current meeting fee is $25.00 payable at the door. Only members can shoot with the group on the range due to national insurance rules. Visitors may choose to join the chapter during the meeting by completing a manual membership form and attaching a $50.00 check made payable to TWAW Shooting Chapters and qualify to shoot with the group the same day!
Click here to join our local chapter!
For more information, contact Rhonda Allen, NC State/Chapter Leader, at 919-625-2988 or rhonda@apdsnc.com.
The Academy of Personal Defense and Security
2505 Edgemont Road
Wendell, NC 27591