NRA Home Firearm Safety Course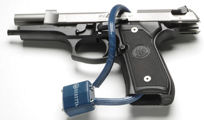 The NRA's Home Firearm Safety Course is a non-shooting course and teaches students the basic knowledge, skills, and attitude necessary for the safe handling and storage of firearms and ammunition in the home. This is a four-hour course for safe gun handling that is conducted in the classroom only. This is an excellent class for anyone who owns or maintains a firearm in your home or on your premises.
We supplement this class with a review of NCGS 14-315.1 "Storage of Firearms to Protect Minors". Students will receive the NRA Home Firearm Safety Handbook and a course completion certificate upon successful completion of this course.
In the classroom we will discuss:
NRA's three rules for safe gun handling

Primary causes of firearms accidents

Firearm parts

How to unload certain action types

Ammunition components

Cleaning; care

Safe storage of firearms in the home

Benefits of becoming an active participant in the shooting sports
Visit our schedule for class dates and registration links!
Contact Barry Allen at 919-868-7354 for more information.