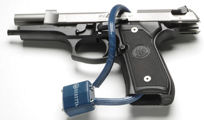 The NRA's Home Firearm Safety Course is a non-shooting course and teaches students the basic knowledge, skills, and to explain the attitude necessary for the safe handling and storage of firearms and ammunition in the home. This is a four-hour course for safe gun handling that is conducted in the classroom only. Students are taught NRA's three rules for safe gun handling; primary causes of firearms accidents; firearm parts; how to unload certain action types; ammunition components; cleaning; care; safe storage of firearms in the home; and the benefits of becoming an active participant in the shooting sports. Students will receive the NRA Home Firearm Safety handbook, NRA Gun Safety Rules brochure, Basic Firearm Training Program brochure, course completion certificate, and Lesson Plan (6-90 reprint 12-08).
This is an excellent class for anyone who owns or maintains a firearm in your home or on your premises. We supplement this class with a review of NCGS 14-315.1 "Storage of Firearms to Protect Minors".
Cost: $100.00
click here!...We do not have this class on a scheduled basis; please send us an email with your/your groups interest in attending this course!...click here!
What to bring with you!
The single most important thing for you to bring is ……attitude!
Knowledge, skill, and attitude are the keys to safe and responsible firearms handling and ownership.
While we are very proficient in teaching knowledge and skills, attitude, which is the most important element, is something only you can posses or develop. By attending this class you do show an interest in developing or honing this attitude! That is to be commended!
……paper and pencil, highlighters are encouraged as well! Training materials are supplied.